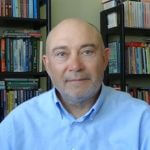 Dr. Mark Tourevski is an author of numerous publications in journals of Columbia University and University of Pennsylvania, the American Association of Management (AMA), the Russian Academy of Sciences, and others. Interviews with him were published in The Washington Post, The Washington Times, International Herald Tribune, Florida Today, Dallas Morning News, RIA News, etc. Marks' most notable work is the book «Cutting the Red Tape: How Western Companies Can Profit in the New Russia.» This book was written in the co-authorship with Eileen Morgan and published in Macmillan Publishers.
Mark created the Leader to Leader Dialogue Program (L2L). Within the framework of the L2L program, Mark organized over 100 international conferences, workshops and meetings aimed at sharing best practices in the field of people and organizational development, culture and international partnerships.
Mark Tourevski, the Founder of the Online Oral History Museum and the creator of the Playing with Leviathan project.
Dr. Tourevski's achievements were recognized by many organizations (Wharton Business School, Texas Department of Commerce, McDonald-Douglas Company, and others) and legendary people such as the President of the United States, Bill Clinton, and the Russian writer, Alexander Solzhenitsyn.